Concept About Human Resources
President's Message
We would like to see the future not only of our company but also of you.
President
Naoki Sugawara
Love your job !
It is difficult to continue working without enthusiasm. What should we do to like work? When we explain something, we always compare it to playing soccer. Small success make us interested in soccer. If we can kick a ball for the first time, we are happy. If our pass get through to the teammate. We are glad. So we want to play it again and do it well. After that, we can take part in a game and score a goal, it brings us delight and we come to like soccer more and more.
It is the same in your job. New employees don't know anything about the world yet because they have just graduated from school. What will happen to them without training? Everyone knows such a thing. Our company has prepared the system of learning basic skills for new employees, they can gain successful experiences even after being assigned to each section. Also, we would like you to work rewardingly and willingly.
Take action here, in the growing company.
To grow up, you must clear the hurdles in front of you. When both you and our company are growing , the hurdles are twice as high. Only growing company will be able to give you a sense of fulfillment.
For Career Center Staff and Teachers
We have the system which has been educating employees enthusiastically.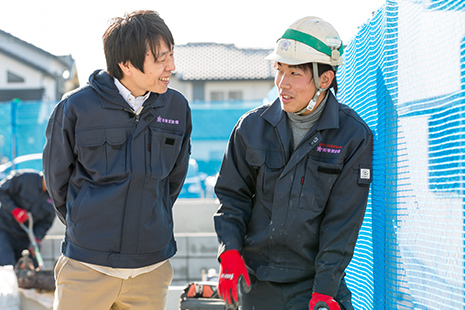 We train all the employees in any section at least for a year. We train them once every 1 or 2 months to be independent before joining us. After entering the company new employees will learn about business manners until the middle of April. Then, they will gain basic skills in off-JT training until the middle of May. The mentors in the company take care of new employees for a year in your own section. We teach the mentors how to deal with new employees once a month. Also , the counselor listens to employees' problems regularly. For example, delicate matters or future career plans.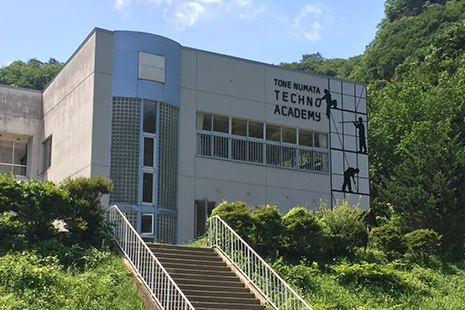 We carry out construction skill training mainly for the young employees in the construction team from July to September. The training location is in Gunma Prefecture. It was established for new graduates to work with no worries, and learn technique. High skills of specialization are required in this industry and it is important to give it a try one by one like sports. To do these, it is essential to teach and train new graduates steadily. Our company has been evaluated highly for accepting and training new employees so far, we were able to acquire the right to be leader of water work course starting from 2016. We have been authorized to run the school by Aichi Prefecture.
As you can see, we have been managing a highly specialized training for each section. Learning highly skill as soon as possible leads to be competent workers in early stages. If you work for 3-5 years at any section, you will be efficient workers not only in this industry but also in others. That is our strong point. We hope our employees' experiences in this company will be beneficial to them.
For Parents
We would like young people to grow up and spend a meaningful life through this job.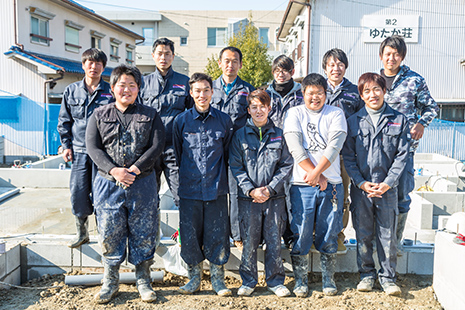 We were originally a small company which had only 3 people in 2000, but now, we have grown up to be a company with 50 employees. We have been contracting to build from plumbing of new houses to constructing of commercial facilities, in addition, building and renovating widely.
Accepting many employees means not only developing company but also standing by them, growing them up, taking the responsibility for them, and meeting their families' expectations. That's why we have been focusing on new employees' training. We are going to introduce more specialized training program because we would like to develop our company constantly.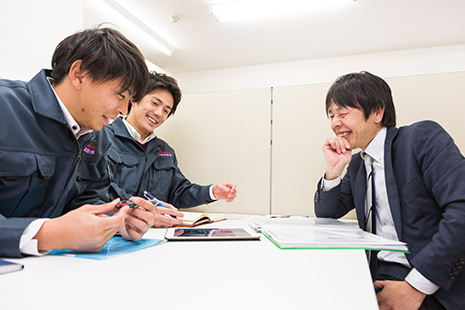 In addition, we put strong emphasis on good work environment and familylife balance to work for a long time. We have been preparing for better working environment and benefits little by little in order to enrich employees' life.
Our trained employees have been making our company wonderful. We have the future business plan and we would like you to be successful as executive staff. Please let us be new members of your family.